I overheard my daughter talking with one of her friends recently. We were on a walk and she saw something rusty. She said to her friend, "My mom would love that. It has lots of rust. She calls those old dirty things vintage."
I have tried to put this lovely little basket in my Etsy store for months. No can do. I just love how delicate it is.
I have no idea what to call this. I found it in a darling shop in Paso Robles called The Cottage. I believe it is made to hold utensils and it spins!
I did manage to part with this little beauty. I thought it would be a lovely part of a centerpiece for a baby shower. Or great decor in a baby's room. I always find it tough to buy for a baby when I don't know the sex.
Again, not sure what to call this. It can be used to hold candles or even as a cake stand I believe. It is a huge wire cloche. And when I say huge, I mean waaay to big for my little apartment, but I just love it.
I think it is unique and interesting.
Now on to the items I love but that belong to others and are for sale. (I believe that is called coveting, but didn't really want to say it).
These are completely different wire cloches and are available on Etsy from a store called The Pansy Patch. Aren't they great?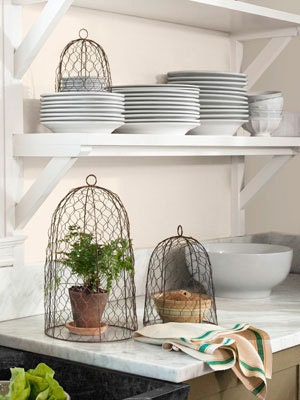 And these I found at Save on Crafts. (Surprisingly they are currently sold out)
And no post of mine would be complete (if I am talking about retailers) if it did not include my absolute favorite Mothology. Of the four, my favorite is A. I really like the contrast of a hard industrial look against white linen and a few ruffles here and there.